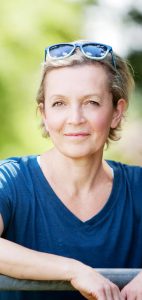 Meeting Details:
Topic: SASS – Benefits of Exercise and Movement
Date & Time: 26th January 2022 at 19:00 Johannesburg
Please join our Virtual Support group meeting when we welcome Sarah Russell as she speaks to us about the benefits of Exercise and Movement for us Ostomates.
About Sarah 
Sarah is  a clinical exercise specialist, certified clinical Pilates instructor (APPI trained) and cancer rehabilitation instructor.
She has 25 years' experience in teaching exercise and fitness and holds a masters' degree in sport & exercise science. She runs a private oncology exercise practice (www.sarah-russell.co.uk) and is the author of The Bowel Cancer Recovery Toolkit.
Health has always been a priority for me and my family. I've worked in the fitness industry as a coach and trainer for 25 years and competed at an International level in both rowing and triathlon. I've always been a competitive marathon runner, enjoying the outdoors, mountain biking, trail running and hiking. And I work for ConvaTec as a Wellbeing Advocate.
So in 2010, it was a huge shock when I needed emergency ileostomy surgery to treat life-threatening peritonitis. Even worse, the surgery didn't go as planned, and I underwent five more operations over the next two years to treat various complications. I actually had reversal surgery but it was unsuccessful. I literally begged my surgeon to put my stoma back. Today, I have my ileostomy back, along with my quality of life. I'm healthy, fit, happy, able to eat normally and can run up mountains again.
In 2014, I became the first person with an ileostomy to run the Himalayan 100 – a five-day, hundred-mile stage race at altitude in the Indian Himalaya. And it was breathtaking. I got to witness the stunning sight of Mt. Everest at dawn, with the first glimmers of light shining on the world's highest peak. And when I came home, I felt invincible. I thought, "If I can do that and survive, then I can do anything." It was incredibly empowering to prove to myself that having a stoma really doesn't have to limit your life in any way.
Please do take a moment to register for our virtual meeting taking place on 26th January 2022 at 19:00 Johannesburg